Customer Reviews
Satisfied customers of LimoToledo.com have written in to express their thanks and to tell others their good limousine stories.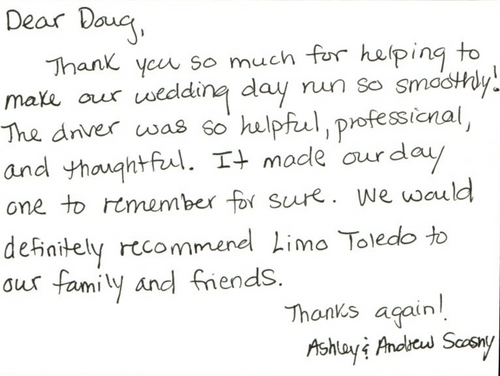 "LimoToledo is the best in town limo service with utmost professional and friendly staff. I used their service from Maumee to Detroit airport recently. Doug drove me and what a great guy! I would highly recommend them to everyone looking for limo service with a difference."
"Hi Doug,
Just want to say thank you for making sure all went smoothly for our daughter's limo ride from the church to the reception this past Saturday. My daughter and new son-in-law said this was one of the biggest highlights of the wedding! (They had the driver take a detour to Mr. Freeze.) I joke that next time we will forget the big party and just rent a limo all night. We really appreciate your quality service and will definitely keep you in mind in the future. Thank you!"
- Lisa & Dave K.
"Thanks for quality service you provided last week for my daughter's wedding.
It was 1st class. They had a blast!"
- Lisa B.
"Doug,
Just a brief note to say how impressed I was with your company's service. The car was very clean and fresh and the driver, Harold, was top notch. He was very courteous, conscientious and early for both pick-ups. I will definitely use your services again. Again, I can't say enough good things about Harold. He clearly enjoys what he does and it shows in his work.
Many thanks!"
- Tom V.
"Doug,
We were very impressed with the service and comfort you provided. I'll be happy to refer to you, and to use your service again when the occasion arises. Thank you."
Lani Kraus
"Doug,
Kurt was fantastic. Very helpful. Trip planned well so we avoided traffic. Very professional.
Our group had a great time, as usual. The party van makes this possible and we appreciate your clean and well maintained vehicles. We had a large group this year and everyone appreciated having a quality ride for the game. Tigers had a great game. Two triples in the same inning is a very rare occasion. Two doubles in another inning just added to the fun. Disappointed that my Indians lost, but, it is always good to see a great baseball game.
Thanks again Doug."
Tom
"I just wanted to send you an email to thank you and your staff for such a wonderful and professional service on Friday night. The entire party that I was with raved about how nice the bus was and how much fun they had! I myself had an absolute blast as well! The buses that you provide and the service with it was just amazing! Kurt was our driver for the night and he was very nice and laughed with us, but was also professional at the same time. We all thought that he did an absolutely great job! I really love the fact that we could text for ease in getting the bus out front for us when it was raining, etc. I just can't say thank you enough for the evening we had and how great everything was! I know we are all looking forward to using your services again for the day of our wedding!!
Please be sure to share a sincere thank you with Kurt for us as well!
Thank you again!"
- Brooke
"I would like to thank you and your staff for our excellent transportation for our wedding party on your party bus. Kevin and I appreciate the extras that came with the wedding package after attending a friend's wedding the following weekend where there weren't any napkins, champagne, or toasting glasses provided on their bus. We had a great time on the party bus with our bridal party. We found our driver to be professional and personable."
- Monica & Kevin A.
"Just a quick note of THANKS for your service that we used on Saturday September 5th for my son Brandon's wedding. Your driver was awesome, the vehicle perfect! I will definitely use your service again in the future. Thanks!"
- Jodi
"Joe and I and our families would like to thank you and our driver Doug for doing such a great job for our wedding this weekend. Even in the downpour monsoon of rain Doug went above and beyond to make sure we were safe, dry, and had an awesome time. We really appreciate everything he did. Thanks for everything!"
- Bethany & Joe H.
"Just wanted to say that once again Kurt did a great job and we again had a very successful caroling event, it's something that we all look very forward to each year and you and your staff have always made a huge success, just wanted you to know! Thank you!!!"
- Jeff
"We had a great time Thursday night! Our technicians commented it was absolutely the best time they've ever had while attending an elevator training class. I also had two trainers that have traveled the country (as well as several international locations) and they agreed- the evening was a terrific experience. All the guys really enjoyed the shuttle service. Curt was a great driver- joking with the guys- extremely friendly and courteous! I can assure you, I will be calling LimoToledo for any future shuttle/car/bus service! Thanks so much!"
- Sylvia P.
"I wanted you to know how grateful we are for your services to help make our son's wedding as spectacular as it was on May 22, 2014.
The 40 plus family and friends were of concern to us to safely, enjoyably and respectfully transport from Maumee Lodge to the wedding at Nazareth Hall. We also planned to have them returned before the pumpkin thing happened!
For me the most amazing thing was is that IT WORKED!!!!!!
The bonus for me was that I actually got to meet you and my husband give recognition to you all who were driving. Comments from our guests were positive except Grandma who needed to be sitting closer to the front of the bus! She is 86 with a bad back and she learned too!
My only disappointment was that because I already had my own motors & wheels I could not ride the bus too with my family and guests!"
- Margaret S.
"We had a great time, every member of the party was impressed with Jeff's services. He's a great driver. I would just like to say I'm thankful Ron told me to call you. As I said before, you will be the only person I call for transportation services in the future if there is anything I can do for you please let me know. Just give word to Ron, or call/email/text me.
Again, many thanks. You've got a terrific outfit and I wish you nothing but continued success. Take care."
- Ben H.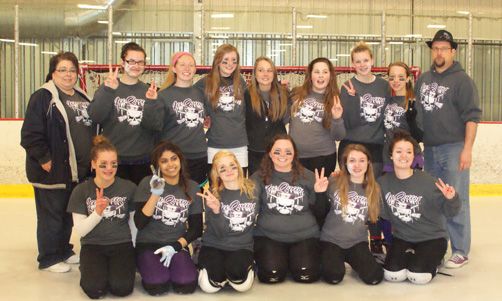 "Thank-you for making this work for the girls. They were so pumped up after the ride they won both Friday games as the underdog. They went on Saturday to win the Saturday division and ultimately take second place in the league. It is great that you were willing and able to work this special deal out for them. It really meant a lot to the girls. The driver was also fantastic. The experience for them is something they will be talking about years from now. Thank you so much"
- Jerry G.
"My wife and I have used Limo Toledo for many years. We have used them to takes us to and from the Detroit airport. I have found Limo Toledo to be courteous and timely. They keep in touch with me through texting and or phone calls regarding our expected pick up times. They give me a feeling of confidence when I decide not to drive."
- Alan
"THANK YOU for providing great transportation for (10) of us on June 2nd from our hotel in Monroe to our friend's wedding site and return trip later in the night to our hotel! Everything went well and Ed the driver was very personable and professional in every way. We all had a GREAT time thanks to your limo service. We will always recommend Limo Toledo to our friends and family."
Leo B.
"My wife and I, along with our wedding party had a wonderful experience with Limo Toledo! Our driver was wonderful and the service exceptional! Thank you so much for the service. Limo Toledo will definitely be recommended!"
- Gustave L.
"Thank you for being available on short notice and letting our kids rock out on the bus. They all loved it. Definitely keep you in mind for next year."
- Barb Y.
"Just wanted to drop you a quick note to THANK YOU for you wonderful service. Limo Toledo enabled us to travel without worry of arriving at the airport on time, leaving our car in a lot, hopping on shuttles and dragging two tired boys around on the way home...it was GREAT. Also.....kudos on having a wonderful driver like Derrick on you staff. Not only was he timely and professional but helpful with our luggage and so pleasant. I have already recommended your service to my sister Pat H., she is looking at purchasing a gift certificate for our parents for an upcoming trip in May."
- John & Sharon C.
"I wanted to give you a "belated" thanks for the great service you provided for my daughter and her wedding party on October 2. The driver and bus were simply "awesome". My daughter and her new husband just raved about the van and your very courteous driver. I will certainly use your service again."
- Scott P.
"I just wanted to thank you for the party bus rental (8/13) and the discount you gave us. It was very much appreciated! We had a great time and I will be glad to refer your business to friends."
- Ian H.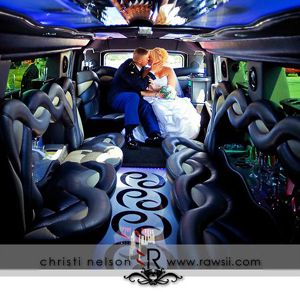 "We just wanted to thank you for such an amazing deal on our recent wedding day hummer. My husband was recently injured in Afghanistan and you made our wedding an amazing experience. Not only did your driver give us the red carpet treatment but he even volunteered his own sunglasses for a picture. We were the recipients of the 2010 Rawsii Photography Most Deserving Couple of 2010 award which included the wedding photography service. Included in this was an amazing picture of the crusher that we rented that day.
Once again thank you so so much for your professionalism and such a wonderful experience."
- Christle P.
"I wanted to let you know that I had a great time on your party bus Diesel. The driver showed up 15 minutes early with the nicest bus that I have ever seen. When I came out to the bus he introduced himself as Doug. We got on the bus to sign the paperwork and I was overwhelmed. The bus was clean and ready. It had ice and water in the coolers and Doug helped us put our drinks in them. Doug was very polite through the entire evening. He did an awesome job making sure that the night went smooth. He got us into a couple bars for free and every time we came out the bus was clean and the coolers were restocked. Thank you for a great experience, I will never use anyone but Limotoledo, "
- R. Johnson
"I just wanted to say thank you so much for accommodating my son and his friends on such a short notice. The limo we had backed out on us the day before my son's homecoming dance at Central Catholic High School. I called you this past Friday (Oct 23rd) to reserve a limo for the following day (Oct 24th). Even though you had a terribly busy schedule, you squeezed us in and made my 14 year old son and his friends very happy. Not only did I leave them in good hands, but when the driver dropped them off at the dance, he called me to let me know that they were there and arrived safely!! What an amazing man!!! Please thank him for me!! My son said that the driver was very "Cool" and they had the best time ever!! I will always call you when I need service again. Perfect "10" service!!!! Thanks again!!"
- Heather M.
"Thank you so much for your great service! You have no idea how much it means to be able to be confident that this part of what we do will go off without a hitch (even though we continuously make changes)."
- Teresa A.
"Good morning Mr. Ramsey,
I would like to commend your company and the service it provides. I was very pleased with the shuttle service from Perrysburg to the Detroit Airport on Friday, April 17, 2009. The driver was on time, the car was clean and the drive to Detroit was enjoyable. The driver was very courteous and made sure to check on my bags. I do not remember his name; please be sure to extend my compliments to him. I will be sure to call your company if I ever need another shuttle to the airport."
- Nancy B.
"LimoToledo picked me up on time and escorted me through the city of Toledo in one of the Nicest limousines I've ever been in!"
- Pauly S.
"The professionals at LimoToledo made my wedding day extra special. I would definitely recommend LimoToledo to all of my friends."
- Kent D.
"I use limousine services all the time when I travel on business. LimoToledo's driver was waiting for me at the terminal. He was friendly, courteous and a true professional. I was able to make important calls while in route to my stop."
- Rob V.
"I used LimoToledo for my buddy's bachelor party. It was awesome. The party bus was a perfect vehicle for our needs. We rode around the city in style and comfort and didn't have to worry about anyone getting a DUI. The chauffeur dropped us all off at the end of the night. It was well worth the money!"
- Andy B.
"My son was looking for a limousine to take him and his friends to prom. I was able to contact the business online, print out the reservation form and send it in. It was a very easy process and the driver was very professional. He made sure my son and his friends had fun without getting into trouble. Thanks LimoToledo."
- Randy R.
"I was picking up some clients from Detroit Metro Airport and felt a limo would make a better impression than my car. I used LimoToledo to pick up my clients. We were able to discuss more important business instead of me having to watch the road. We were able to get work accomplished in a stress free environment before arriving in my Toledo office,"
- Dave M.
"Thanks for a great time taking our group to the concert. We had an awesome time. Your limo bus is beautiful; it fulfilled all of our needs. Our group is still talking about the great time we had. Thanks again."
- Michelle K.