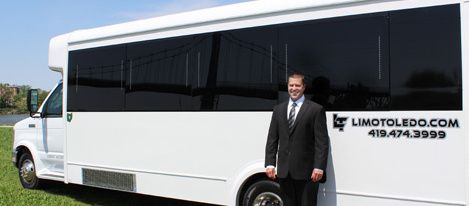 About "Limo Doug" Limo Toledo Owner
17 Years as Owner of Limo Toledo and with over 20 years in the entertainment industry.
Limo Toledo Specializes in: Limousine Service, Airport Service, Wedding Service, Sporting Events, Concert Events, Bachelor, Bachelorette Parties and more.
Limo Doug earned a Bachelors degree from the University of Toledo.
Limo Toledo is a transportation services company which was founded in 2003 with a decade of limousine experience and over 20 years in the Toledo entertainment business to draw from. Their goal is to provide high quality transportation services to their clients and to continually upgrade the skills and abilities of their employees. Limo Toledo is dedicated to maintaining the highest level of customer service and client satisfaction.
Limo Toledo is certified by the state of Ohio and in compliance with all federal and state regulations. They are the only company in the Toledo area that is in compliance to serve Michigan clients. Limo Toledo caters to their customers needs for airport service, wedding service, sporting events and concert events as well as bachelor and bachelorette parties.
During his educational career, Douglas earned a Bachelor's Degree from the University of Toledo. He is responsible for managing all major aspects of the company as well as overseeing the daily operations.
Contact Limo Doug: Email: Doug@LimoToledo.com | Phone: 419-356-0255